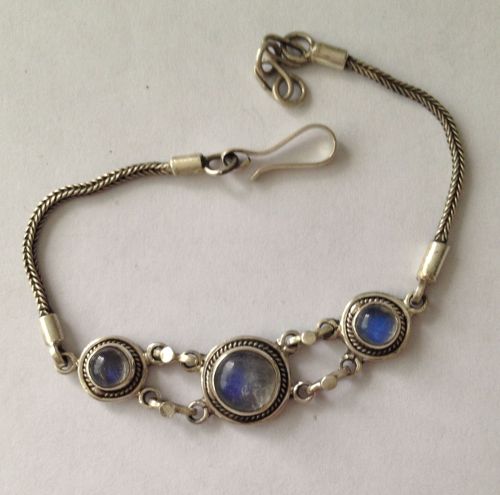 moonstone Silver Chain Bracelet (MB21)
Moonstone silver chain bracelet moon like
This is a lovely bracelet made up of 3 gorgeous silvery pearl coloured moonstones stones set in beautiful quality shiny .925 silver. These moonstones really do have a lovely etheral quality to them, especially the large middle stone which held up to the light has great reflections & super movements almost like looking up into the real moon
This is similar to the MB20 but does not have a pink sheen-totally moonike
Two moonstone measure approx 5mm and the central stone measures 10mm. Each stone is set in beautifully patterned silver and are all linked together with silver links. The silver chain itself is nice and light and floating and has a lovely delicate feel to it.
Hook clasp
Bracelet measures 17cms & comes in a free velvet pouch. If you would like a box please state this & add £1.00 to your payment on checkout
Moonstones are a protection stone, used for land & on the seas. Stone of the goddess Diana considered to bring love and passion to a relationship.
Chakra - 3rd eye Crown - Anniversary 13
Birthstone: April, June, August, October