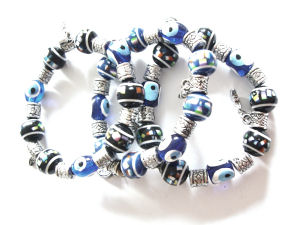 Evil Eye Blue Stretchie Bracelet (EVEB40)
Evil eye Blue stretchie bead bracelet
Super fashion bracelet. It is made up of beautiful blue glass beads with the famous eveil eye design of blue beads with white & black 'eyes.
The evil eye is famous in the middle east for warding off evil. These are Turkish
This particular stretchie consists of a mix of three eveil 3 eveil eye beads & other little beads with colours & silver barrel beads & finished with little dangles.
Nice bright and cheerful.
Very tribal ethnic