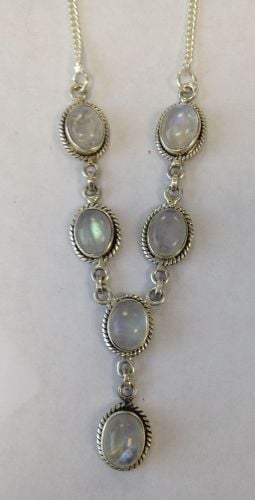 Moonstone Silver Necklace (MN32)
Moonstone silver necklace
Gorgeous milky white moonstone and silver necklace.
This is a terrific necklace with 6 beautiful milky white round moonstones. Each lovely bead is set in plain silver and all the stones are linked to each other with silver chain links with 2 moonstones coming down to hang nice and floaty towards the chest.
The stones are hung connected to a silver chain, one side large links and the other half small, so you get a really different and interesting design.
The clasp has a nice 'S' shape hook clasp.
Necklace comes in free velvet pouch or box - please specify.