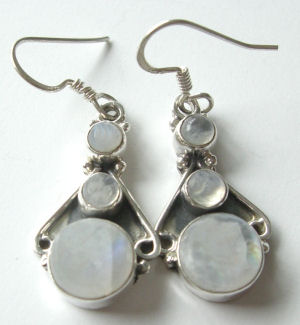 Moonstone pearly white stone silver earrings (ME07)
£12.00
Moonstone silver earrings with 3 milky stone in silver
A pair of super moonstone silver drop earrings
These moonstones are super light silvery pearly colour. There are three round moonstones all going up in size along the earring.
All the moonstones are set in lovely plain silver.
These little moonstones are great as they shimmer in the light and reflect the beauty of this timeless stone.
comes in a velvet pouch
Delicate girlie classic elegant
Moonstones are a protection stone, used for land & on the seas. Stone of the goddess Diana, considered to bring love and passion to a relationship.
Chakra - 3rd eye Crown - Anniversary 13
Birthstone : April, June, August, October