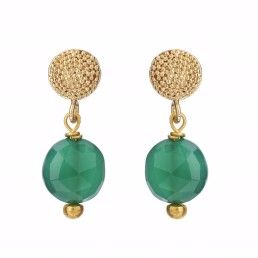 Stud Earrings with Green Onyx
Earrings with green onyx - stud
Stud earrings with green onyx.
Super dangling earrings with gold.
Talia Stud with Green Onyx
The studs measures o.8cm and the post is sterling silver.
The stone is facetted and measure 1 cm diameter
Semi precious stone Collection
British Made
Green onyx is one of variation onyx stone. Green onyx meaning are physical healing, abundance. fertility, growth, young, material success, renewal, endurance, balance, dependence and friendship. Can be used for relaxation, neutralize the eye's, winning the mind, stimulates creativity.