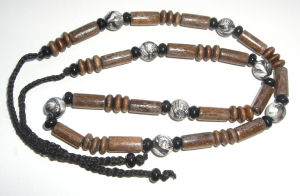 Wooden Bead Necklace African (NKwood3)
£4.80
Wooden boho bead necklace handmade in Africa
Super boho wooden bead necklace.
Handmade in Africa this lovely fashion necklace is made up of wooden tube beads, little flat wooden beads and some really ovely round beads in black and white & little black beads.
The necklace is strung on black cotton and has no clasp, it is designed to be done up by tying at the neck.
Measures 23ins long incl the ties.
Really nice boho item