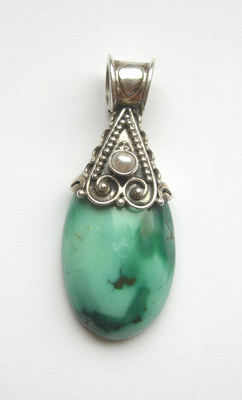 Blue Green turquoise silver pendant with Pearl (TPP01)
Blue Green turquoise silver pendant with Pearl
This is a nice big chunky pendant with a huge piece of turquoise which measures 4cms in length and 2cms at the widest. The whole pendant has a final drop of 4.5 cms (incl bail).
The Turquoise is a lovely sky blue colour with grass green areas. The turquoise is encased in really beautiful silver which has lovely pattwen work, filligree and raised.In the middle of the silver is a little pearl bead. The bail is nice and wide so can be used with a great variety of chains/threads.
The craftmanshop of this piece of jewellery is excellent and the whole pendant is a truly lovely piece to add to your jewellery box.
This is a one off piece and comes in a pouch.