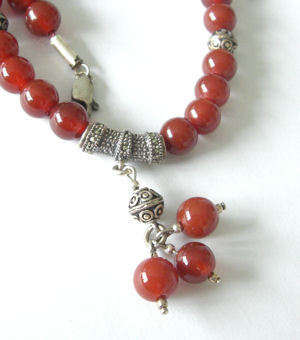 Carnelian Bead Necklace with silver (Car002P)
Carnelian Bead Necklace with silver beads
This is a terrific bead necklace
Made up with gorgeous earthy rich brown carnelians and silver beads this bead necklace has 49
carnelians and 9 patterned silver beads round beads and 1 lovely silver tube bead.
These beads measure 44ins when open and has a hung drop of 9ins, with the gorgeous silver tube bead in the centre of the design and one round silver bead and 3 carnelians.
The necklace is handmade and has been strung on cotton.
Beads come in their own ribboned box