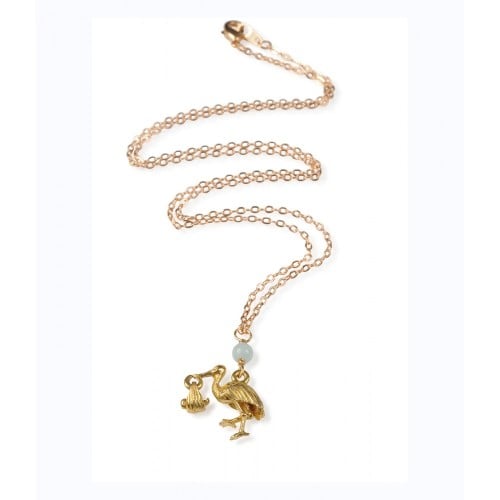 Stork Bringing Baby Pendant gold plated with Amazonite. (849)
Stork & Baby Pendant gold plated with Amazonite. - Mirabelle
Stork bringing baby pendant with amazonite
Gold Plated
Mirabelle
Small gold plated stork bringing a baby with an amzonite semi precious stone, or a tiny white Pearl. on a short gold plated chain 45cm.
The baby is actually mobile and moves around, very sweet.
Hand Made in the Mirabelle London studio.
The Stork is a solar bird, and is a destroyer of reptiles. It is associated with creation and birth and the coming of spring. In China, it also represents longevity and happiness. In Christianity, it represents chastity, purity, and piety. Seeing a stork in a place where they are rare, or dreaming of one is considered a good omen.
Comes in a Mirabelle velvet pouch