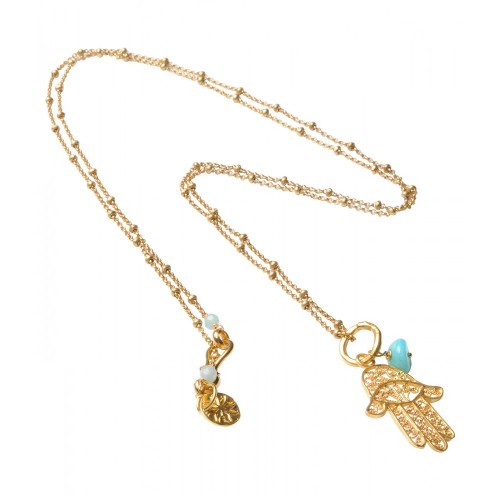 Fatima hand gold filigree with Amazonite (582)
Fatima hand gold filigree with Amazonite - Gold Plated - Mirabelle
Hand of Fatima Necklace on long biba chain
Gold Plated with Amazonite
Mirabelle
Fatima hand 22 carat gold plated on brass with semi precious Amazonite,set on a long gold plated chain of 85cm.
The Hand measures 3.5cm long from under the ring.
Khamsa, the number five in Arabic, is another name for the hand of Fatima, the Prophet Muhammad's favorite daughter. Known throughout the Mediterranean region and the Islamic world as a sign of good fortune.
Metaphysical and Healing Properties of Amazonite
Amazonite is a mint green to aqua green stone said to be of truth, honor, communication, integrity and trust. It is said to enhance intuition, psychic powers, creativity, intellect, and psychic ability.
Amazonite is often associated with the throat chakra, and as such, said to be beneficial to communication. It is said to align the physical and astral bodies. It is noted mystically to lessen stress and self-defeating behaviors by calming and building self-esteem.
Comes in a Mirabelle velvet pouch