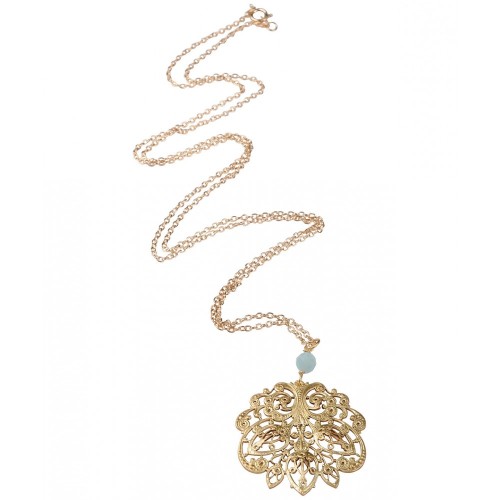 Filigree Gold plated Sacred tree Necklace (699)
Filigree Gold plated Sacred tree - long chain- Mirabelle
Filigree gold plated sacred tree necklace on long chain
Gold Plated
Mirabelle
Filigree Brass gold Plated with Amazonite.
Tree of Life on a long 85cm chain, the tree measure 4cm.
This Sacred tree is inspired from The Universal symbol Tree of life .
The Tree of Life is an important symbol in nearly every culture. With its branches reaching into the sky, and roots deep in the earth, it dwells in three worlds- a link between heaven, the earth, and the underworld, uniting above and below.
Amazonite is a lovely blue and green stone often streaked with white. It is an extremely soothing crystal and is believed to calm the brain and nervous system.
Amazonite is said to dispel negative energy and to improve confidence, leadership and communication. It is a useful stone to wear or carry if you have to face a challenging situation, have a difficult question to ask or have to speak in public. It is a good stone for writers and artists as it is thought to enhance self-expression and creativity. It can also be an aid to seeing both sides of a problem and in analysing and sorting out information.