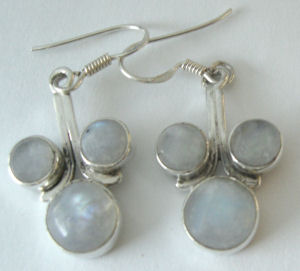 Moonstone pearly white stone silver earrings (ME04)
Moonstone silver earrings with 3 milky stone in silver
A pair of super moonstone silver drop earrings
These moonstones are super light silvery pearly colour. There are two little round moonstones 6mm & one larger oval moonstone 10mm. All the moonstones are set in lovely plain silver.
comes in a velvet pouch
Delicate girlie classic elegant
Moonstones are a protection stone, used for land & on the seas. Stone of the goddess Diana, considered to bring love and passion to a relationship.
Chakra - 3rd eye Crown - Anniversary 13
Birthstone : April, June, August, October