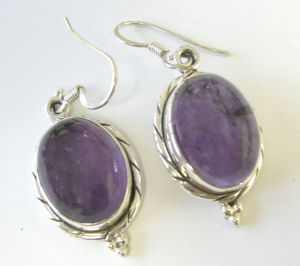 Amethyst Purple Silver Earrings Fancy design (AE03)
£16.00
Amethyst purple stone silver earrings fancy design
A pair of lovely purple AMETHYST drop earrings with sterling silver.
These earrings have beautiful light mauve amethyst stones which are quite luminous and etheral in the light. Nice larrge16mm ovals stones
The amethysts are set in silver with a lovely fancy pattern designed around it and little bobbles at the bottom.
Earrings are for piered ears and have a drop of 2cm
A
free velvet pouch is included.