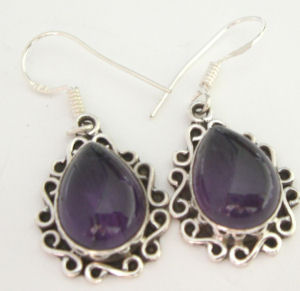 Amethyst Purple Silver Earrings Fancy design (AE05)
£18.00
Amethyst purple stone silver earrings fancy design
A pair of lovely purple AMETHYST drop earrings with sterling silver.
These earrings have beautiful dark mauve large amethyst stones in a great big teardrop shape
The amethysts are set in silver with a lovely fancy pattern designed around it.
Earrings are for piered ears and have a drop of 2cm
A
free velvet pouch is included.
Anniversary - 11th