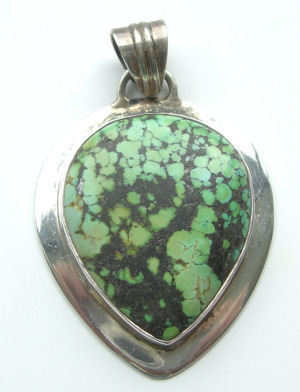 Turquoise Silver pendant (TP05)
Turquoise Silver Pendant Blue
This is a nice turquoise pendant set in silver. The turquoise stone has a mixture of light blue colours a nd dark grey / light black splotches. A nice unusual natural and original piece which has been set in silver.
The stone is a nice teardrop shape and the silve is plain.
The bail fitting has a nice wide fitting so is suitable for a nice thick silver chain and has a simple design crafted on it.
This is a nice turquoise silver pen
The drop of this pendant is 5.5cm
This pendant comes with a free velvet pouch
Birthstone: February - Zodiac: Aquarius, Pisces, and Capricorn & Sagittarius
Anniversary: 11th
Use Turquoise for wisdom, understanding and for spiritual clarity
Turquoise is a healing stone for the spirit and the body. A protective stone that has been used for amulets since ancient times and was a favoured stone of the ancient Egyptians & Persians and still much prized in the Middle East. In Persia it is a symbol of wealth and is often given as a sign of friendship.
A purification stone it protects against pollutants in the environment and balances the chakras and calms the nerves when speaking in public.
Use for gout, stomach & as a detox