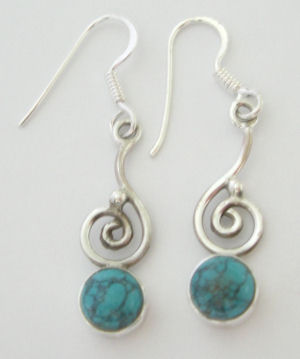 Turquoise blue stone silver earrings (TE02)
Turquoise blue stone with spiral design silver earrings
Gorgeous simple little earrings for pierced ears with lovely blue turquoise stones with light grey veining that is so unique to turquoise.
The lovely blue stones are set in plain .925 silver which is crafted with a super spiral design.
These earrings are great earrings, very classy and suitable for everyone.
Birthstone: February - Zodiac: Aquarius, Pisces, and Capricorn & Sagittarius
Anniversary: 11th
Use Turquoise for wisdom, understanding and for spiritual clarity
Turquoise is a healing stone for the spirit and the body. A protective stone that has been used for amulets since ancient times and was a favoured stone of the ancient Egyptians & Persians and still much prized in the Middle East. In Persia it is a symbol of wealth and is often given as a sign of friendship.
A purification stone it protects against pollutants in the environment and balances the chakras and calms the nerves when speaking in public.
Use for gout, stomach & as a detox