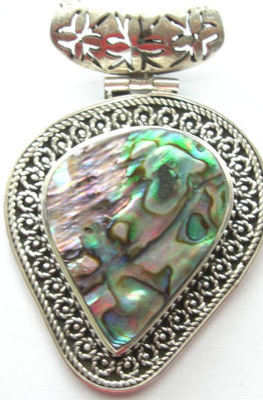 Mother of Pearl Silver Pendant (MofP30)
Mother of pearl multi colour silver pendant
Super multi coloured ever popular mother of pearl silver pendant.
This mother of pearl piece is fashioned in a pretty teardrop shape(almost heart shaped) and i s so pretty with those gorgeous mixed shiny luminous colours of blues greens and pink only really found in mother of pearl.
Set in silver it is surrounded in a pretty intricate pattern of alverwork in an open filigree design with the bail at the top having another piece of silver with open design to enhance the whole pendant.
The whole pendant incl silver (excl bail) is 4cms