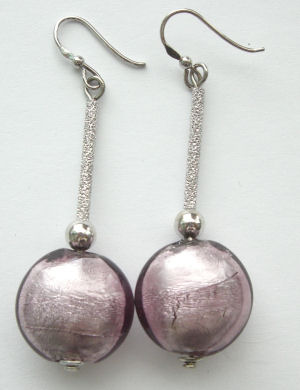 Lilac Murano glass Lampwork bead earrings with silver (M-A-408)
Lilac Murano bead glass Lampwork earrings with silver
A lovley pair of silver foil lampwork Murano glass bead earrings made in the traditional lampwork method by master artists in venice.
These earrings are made from hand made lampwork glass, in a lentil bead shape in a gorgeous warm subtle smoley lilac colour.
They are set on sterling silver which is all sparkly and has a little sterling silver round bead to compliment the foil bead.
These are genuine murano glass and cthey come with their own box and certificate of authenticity
Click on image to enlarge