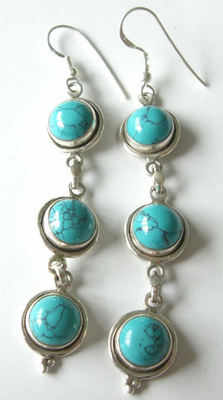 Turquoise Silver Earrings (TE11)
Turquoise natural stone silver earrings
Gorgeous natural Turquoise stone earrings set in amazing silver.
These amazing earrings are a made up of
three
lovely turquoise stones.
Each beautiful blue stone is 8mm dia and have super natural grey veining which gives turquoise its uniqueness. The 3 stones are linked together withsilver chain and each stone is set in silver, the last having a pretty bobble design to finish the elegant but eyecatching piece of jewellery.
The earrings are nice and floaty and dangle beatuifully
These earrings are simple enough to wear to work but have that extra panache to carry on into the evening.
The Blue turquoise is a lovely stone, an never ending favourite. These earrings come in a free velvet pouch.