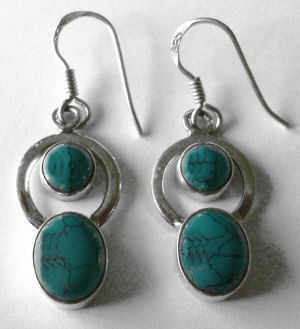 Turquoise Silver Earrings (TE10)
Turquoise natural stone silver earrings
Gorgeous natural Turquoise stone earrings set in amazing silver.
These earrings are a made up of two lovely turquoise stones. One is a nice sized oval stone 10mm x 8mm and the little stone is 6mm. Both stones have beautiful natural grey veining.
The earrings are set in lovely silver which is nicely simple and plain, with a pretty extra ring of silver floating around the smaller stone.

The simpleness of this piece of jewellery makes it easily wearable whether at work or play.
The Blue turquoise is a lovely stone, an never ending favourite. These earrings come in a free velvet pouch.