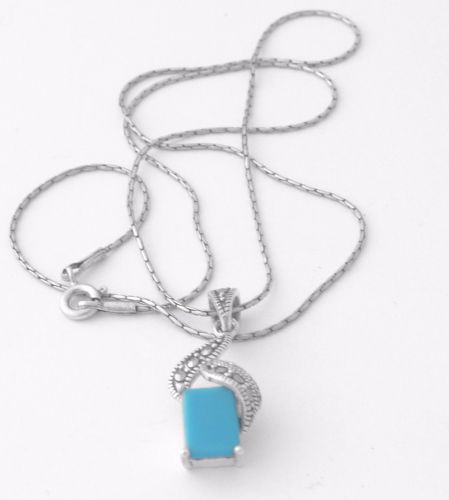 Turquoise Silver Necklace - Square (T02N)
Turquoise Blue stone silver necklace with square pendant
This is a stunning super silver necklace beautifully
The silver has been cut in a gorgeous way as to create a really lovely sparkle, it is highly patterned in a filigree design, very delicate looking and feminine.
The necklace has a beautiful square turquoise pendant set in silver with a Nice middle weight chain
Turquoise stone is super smooth and unblemished with no veining. The best turquoise is said to come out of the middle east and this piece is certainly testement to that statement
Super sparkly - Makes a great gift. - comes in a box or pouch
9ins silver chain
Necklace length with pendant is 10 ins.
Matching earrings available
Birthstone: February - Zodiac: Aquarius, Pisces, and Capricorn & Sagittarius
Anniversary: 11th
Use Turquoise for wisdom, understanding and for spiritual clarity
Turquoise is a healing stone for the spirit and the body. A protective stone that has been used for amulets since ancient times and was a favoured stone of the ancient Egyptians & Persians and still much prized in the Middle East. In Persia it is a symbol of wealth and is often given as a sign of friendship.
A purification stone it protects against pollutants in the environment and balances the chakras and calms the nerves when speaking in public.
Use for gout, stomach & as a detox
*******