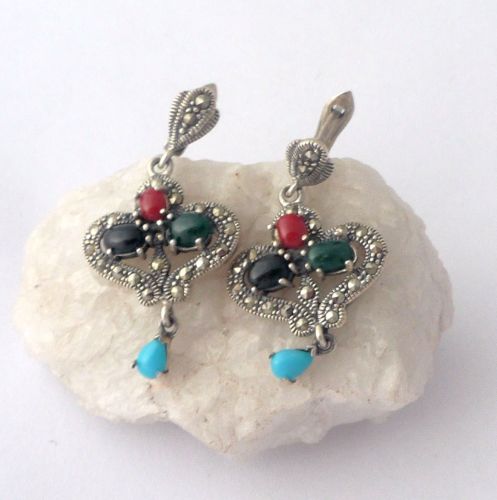 Silver earrings Hearts - Multi stone Turquoise & Agate (MS01E)
Heart shaped silver earrings with multi coloured stones
Stunning & intricate Heart shaped silver earrings with multi semi-precious stones.
Beautifully crafted silver in a super filigree design, very intricate and delicate, it shines and sparkles due to the way they have been cut.
Each delicate earring has 4 beautiful semi precious stones. Red, Black, Green & Blue Turquoise dangling from the end. All stones are set in the superb silver.
The earrings fittings are for pierced ears and is a stud fitting with an exceptionally good fitting as they snap into the fitting so ensuring that they do not fall out, even if you dance the night away.
Drop earrings
These earrings will come in a free velevet pouch or box
Matching necklace available.
CARNELIAN
Birthstone: Aries, Cancer, Leo, Virgo & Capricorn
Chakra – Base
Carnelians are said to bring good luck and fortune - encourages courage and promotes positive life choices, dispels apathy and motivates for success in business.
In ancient times carnelians were used to protect the dead on their journey to the afterlife
Protects against envy, rage and resentment and replaces emotional negativity with a love of
Healing: Stimulates the metabolism, increases fertility, heals lower back problems, rheumatism, arthritis & depression – good for the kidneys