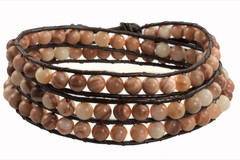 Leather Wrap Bracelet with Gemstone - BROWN / PEACH (05)
Handmade Bracelet Leather & Semi Precious BROWN / PEACH Gemstone
Bracelet
Handmade
BROWN / PEACH
Leather wrap with a strand of semiprecious stones, finished with macrame twine.
Handmade leather and semi precious gemstone wrap around bracelet!
High quality and easy to wear.
Bracelet has up to 100 beautiful agate beads
Length of strand approx 26inches
Overall width approx 7-8mm
Silver gilt button fastener
Handmade to a high quality
Chanluu Inspired leather wrap bracelets the seasons must have fashion accessory!
Extremely versatile, bracelet can also usually double as a necklace or child's belt. Additionally, you can dress these wraps up or down - they look perfect paired with jeans, or a fancy dress