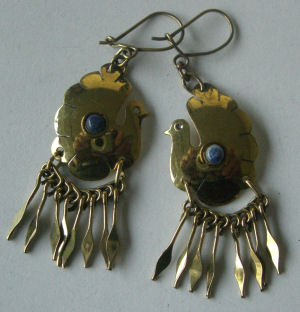 Chilean Brass Earrings with Lapis CH06
Chilean Brass Earrings with Lapis
Chilean Brass Earrings - Bird design
Lapis
Sweet little earrings made in brass with a pretty dark blue lapis stone. The brass is made in a cute bird shape with lots of pretty dangling brass on te end with added brass links and finished with a little blue lapis stone in the centre.
Great earrings
Fair trade, handmade individually in small workshops.
These earrings are hand made in small workshops in Santiago, the capital of Chile.