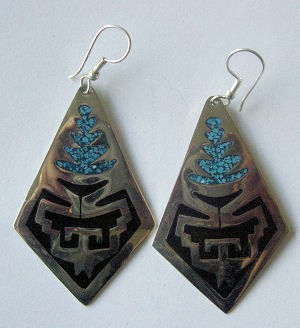 Mexican earrings Silver with crushed Turquoise (MEX37)
Mexican earrings Silver with crushed Turquoise
Mexican earrings with crushed turquoise
Silver
Gorgeous silver earrings with crushed turquoise. These unusual earrings are a fab shape, silve with crushed turquoise at the top and a contemporary design in black.
Wonderful girlie earrings which swing beautifully.
These earrings are hand made in small workshops in Taxco, in the state of Guerrero, Mexico, an important centre of jewellery making since colonial times.