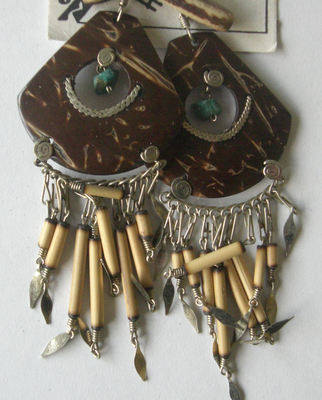 Earrings from Peru - Coconut, shell & Semi Precious Stone PO8
Earrings from Peru - Coconut, shell & Semi Precious Stone
Earrings from Peru
These are the most amazing earrings, handmade in natural materials the dangle beautifully with silver links and dangles at the bottom, long bamboo beads and a single turquoise bead in the centre with silver embellishment everywhere.
These earrings are real statement and untterly wearable and gorgeous
Coconut, shell and semi precious stones these earrings are made from cooconut shell with swirls and links little silver dangles and links with the addition of beautiful stones.
Fair trade, handmade individually in small workshops.
Amazing handmade earrings fair trade, made out of nautural products Earrings from Peru - Coconut, shell & Semi Precious Stone