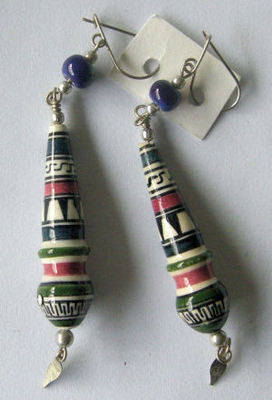 Earrings from Peru - Hand painted ceramic - PO5
Earrings from Peru - Hand painted ceramic
Earrings from Peru - Hand painted ceramic
Fair trade, handmade individually in small workshops.
Fantastic colour dangle earrings. They are silver with a wonderful earthy coloured bead, a small deep blue lapis bead at the top and little silver drops at the bottom
These ceramic earrings are made out of beads that have been fired in earth kilns and then individually hand-painted. Made in small family workshops around Cuzco, the capital of the Incas, Peru. Some designs are based on local scenes whilst others are based on Inca and pre-Inca motifs.