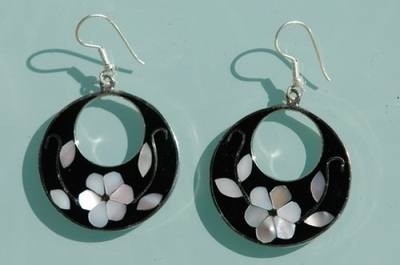 Mexican earrings inlaid with shell (mex107)
Mexican earrings inlaid with shell
Mexican earrings inlaid with shell
Black silver hoop earrings inlaid with shell. The shell decoration is made in flowers with swirls.Colours are pretty light blue with silver. The silver hoops are a nice solid thickness. Shell is dainty and light and plays gorgeously in the light.
Super gorgeous earrings.
These earrings are hand made in small workshops in Taxco, in the state of Guerrero, Mexico, an important centre of jewellery making since colonial times.