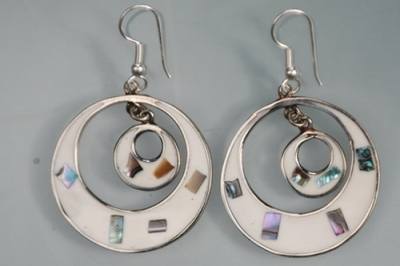 Mexican earrings inlaid with shell (mex105)
Mexican earrings inlaid with shell
Mexican earrings inlaid with shell
White hoop earrings inlaid with shell. The little shapes in the white hoop are inlaid with shell which has the super irridicsent colours of shell which in the light shine pinks, blues & greens. Inside the large hoop is a smaller hoop also with an irridisent inlaid shell.
There is the added feature which has a little silver bead on the earring hook and the hook is nicely fastened so that there is no chance of losing.
Super gorgeous earrings.
These earrings are hand made in small workshops in Taxco, in the state of Guerrero, Mexico, an important centre of jewellery making since colonial times.