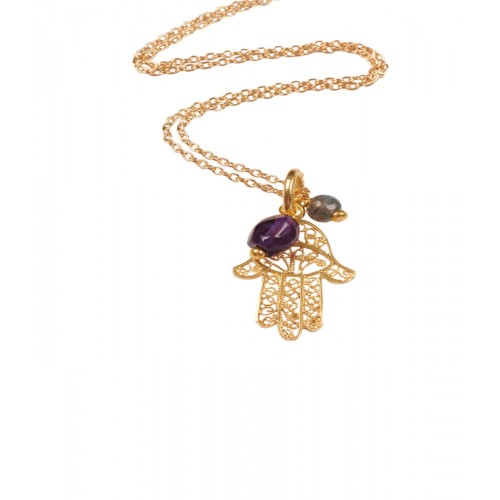 Fatima hand gold filigree with Amethyst (170)
Fatima hand gold filigree with Amethyst - Gold Plated - Mirabelle
Hand of Fatima Necklace on long chain
Gold Plated
Mirabelle
Fatima hand 22 carat gold plated on brass with semi precious Ametyst and Labradorite,set on a long gold plated chain of 85cm.
The Hand measures 3.5cm long from under the ring.
Khamsa, the number five in Arabic, is another name for the hand of Fatima, the Prophet Muhammad's favorite daughter. Known throughout the Mediterranean region and the Islamic world as a sign of good fortune.
Amethyst symbolizes piety, humility, sincerity and spiritual wisdom
Comes in a Mirabelle velvet pouch