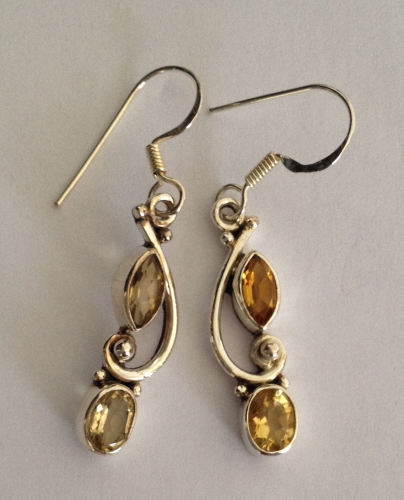 Topaz Yellow Stone Silver Drop Earrings (YT001)
Yellow Topaz stone silver drop earrings
A truly stunning pair of silver earrings with beautiful faceted yellow topaz. These lovely drop earrings have gorgeous large yellow topaz stones set in sterling silver.
Two Topaz stones

Whole piece is delicate & charming - won't disappoint
Topaz is also known as Imperial Topaz. It is one of the 12 breastplate stones of the High Priest from 'The Book of Exodus' and said to be the sacred to the angels who guard the gates of paradise.
Birthstone: November
Anniversary : 16th
Chakra : 3rd - Solar Plexus
Energies : Love, Power, Healing, Protection, Money
Stimulates the appetite & metabolism. Banishes bad dreams, protects against envy & draws love to the wearer.