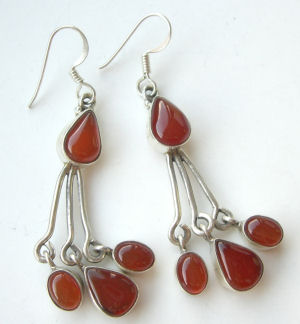 Carnelian four stone silver earrings (C309384)
Carnelian stone silver dangle earrings
Four stone carnelian silver earrings, these great earrings have a lovely modern feel to them, the way that they freely swish and swing are a simple joy and will make your frinds green with envy.
There are 2 large teardrop carnelians and 2 oval shaped carnelians. One large carnelian is connected by silver to the other 3 stones.
The carnelians are a lovely deep toffee coloured earthy colour.
Drop is 2.5 ins and they come with a free velvet pouch.
CARNELIAN
Birthstone: Aries, Cancer, Leo, Virgo & Capricorn
Chakra – Base
Carnelians are said to bring good luck and fortune - encourages courage and promotes positive life choices, dispels apathy and motivates for success in business.
In ancient times carnelians were used to protect the dead on their journey to the afterlife
Protects against envy, rage and resentment and replaces emotional negativity with a love of
Healing: Stimulates the metabolism, increases fertility, heals lower back problems, rheumatism, arthritis & depression – good for the kidneys