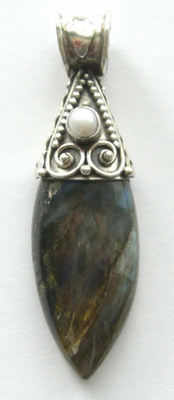 Labradorite Silver Pendant with Pearl (LABPP34)
Labradorite silver pendant with peal bead
Beautiful multi coloured smokey labradorite stone pendant encased in gorgeous patterned handcrafted silver and topped with a pretty creamy white pearl bead.
Nice large bail to finish in a nice design and wide enough to take a thick chain.
Labradorite is great because it has such a lot of wonderful colourful layers, greens blues and greens.
Labradorite - Power Stone
Stimulates the immagination, develops ideas & helps in meditaion
Labradorite balances all the chakras