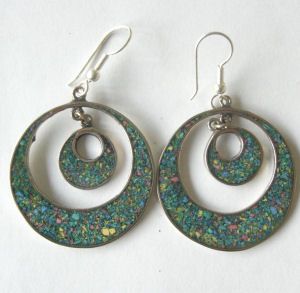 Mexican earrings Silver with crushed Turquoise (MEX21)
Mexican earrings Silver with crushed Turquoise
Mexican earrings with crushed turquoise
Gorgeous hoop silver hoop earrings crushed turquoise. The lovely mixed colours of blue turquoise with yellows and greens make these simply gorgeous hoops a show stopper, they mirroring little hoops inside the big hoops and little silver beads on the ear fitting.
Wonderful girlie earrings
These earrings are hand made in small workshops in Taxco, in the state of Guerrero, Mexico, an important centre of jewellery making since colonial times.